Sending real (physical) letters from Word without walking to the letter box
No more hurry to the post office to buy stamps. No chance to walk the dog and drop your mail to the letter box. Sorry.


Requires an account with Pingen.

Humbly tendered as a gift to diligent letter writers of Switzerland and abroad ;-)

Available now on Codeplex
Enjoy - Gian-Reto Zanetti, Voltar Systems LLC http://www.voltar.ch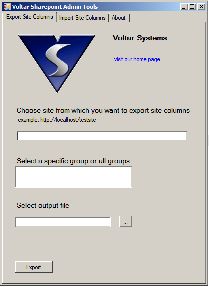 This tool is very easy to use and supports SharePoint Solution Architects to export carefully designed site columns from one site to another.
The application contains two simple steps:
First you export Site Columns from a Sharepoint source site into a file on your local system.
Then you import the file into your target site in Sharepoint.
Source Code and Documentation available on Codeplex
As a Sharepoint Administrator this tool can safe you a lot of time and work if you need to transfer a large number of site colums onto another Sharepoint farm. The exports Site Columns from a Sharepoint site into an XML file that can be easily imported in the 2nd site or farm.
Works for SharePoint 2007
Image resizer (downloadable version) by VOLTAR SYSTEMS

Voltar Print Manager is a small but supportive Tool to print Word Documents in Batch Mode.
Download it directly from codeplex.
Programming techniques:
Windows Forms
Drag and Drop
Multi threading
Menus
Office Integration